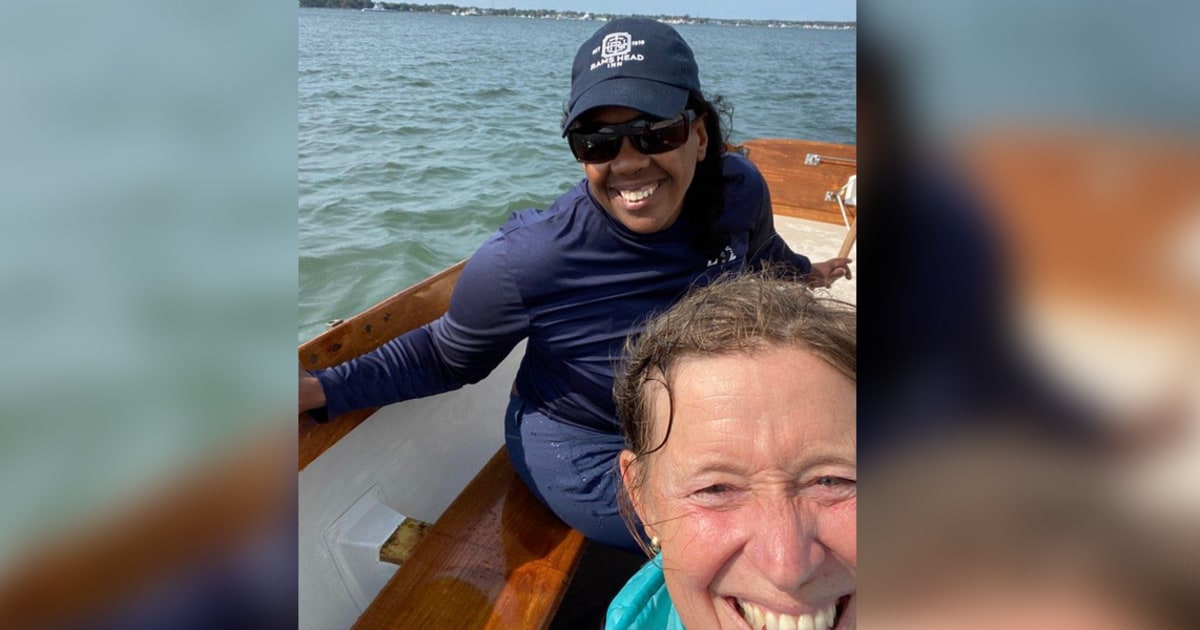 How to navigate a storm on a 16ft boat taught me a hard lesson in leadership
I like to sail. It helps me clear my head, relax, and step away from the challenges of life on earth. But when I recently took to the water with my sister-in-law and found ourselves in rough waters, I had so much more than that: I learned a valuable lesson in leadership.
The rough water – and my sister-in-law's reaction – has shown me that too often, as well-meaning leaders and as women, when we're trying to guide our coworkers through a storm, sometimes we make a poor service by rescuing them too early. I've learned that good leadership sometimes means letting them hang onto the helm, which is used to steer the boat, and navigate rough waters their way.
And so, this moment on the water changed my way of thinking about leadership at work.
It happened a few weeks ago at a women's sailing race I competed in with my sister-in-law Whitney. Now you should know that although I have been sailing for most of my adult life I am a newbie compared to Whitney. She is still comfortable on the water, whereas I feel like I start from scratch every summer.
That September day, however, I was motivated to race. After all, the past two years have been difficult, including the unexpected passing of my mother. In addition, my stepfather passed away after a long illness. And of course there was the stress of the pandemic. Sailing, however, forces me to be in the moment. You can't think of all the craziness in life when you have to pay close attention to where the wind is blowing and what your sails are doing.
Whitney and I took part in the Peconic Bay race in New York with my boat that I rented earlier this year. But on September 12, the weather was harsh. As the wind picked up and the water got rougher and choppier, several teams opted out of the race. But knowing that my days were numbered with the lease of the boat, there was no way we weren't competing.
So we jumped into our sailboat, got ready and got off the mooring. I was at the helm because it was my boat, still confident despite the wind. We were happily discussing our strategy to win. Whitney had a plan for a good start – get to where you need to go, without getting too far, because if you've passed the right point when the race begins, you need to turn around and start over. It worked; we got off to a good start and got ahead.
But then we entered the main body of water and approached one of the marks we had to go around: a large metal buoy that serves as a channel marker. The wind had picked up and so had the current. As we neared the mark there was a big whirlpool – half current, half wind, half tide – and the water looked spooky as we reached it. It reminded me of "Where are the wild things", as if the whirlwind could grab our ship and send us to a far place.
At this point the water was coming over the bow and I was nervous. I looked around and saw that the other boats were gibing, a quick maneuver in which you turn your stern into the wind, bringing the boom with the mainsail through the boat. very aggressive way. Jibing is one of my least favorite things to do. I had done them before, but not in strong winds like this.
I was pretty much ready for Whitney to take the helm.
She did not do it.
Instead, my sister-in-law said, "OK, here's what we're going to do. We will not go around the mark here, we will overtake it and tack. And she stayed where she was.
I was surprised. Tacking is a slower maneuver that turns the bow in the direction of the wind. Everyone was stinging and they were going fast. We could win, I thought. "Why doesn't Whitney take the helm and gimbal?" "
For some reason she didn't, so I dutifully started to tack. We slowly made our way through the waves and currents and approached the next marker, which luckily was quieter without the whirlwind around it. We noticed that the other boats, which had been battling the tide for so long, were slowing down a bit. We decided to stay on the other side of the canal and then cross to the finish line.
We finished in third place… on three boats. But we almost came second! And I was so proud of us to be done. I was still a little confused by what had happened. The moment I thought, "Can't you just take this?" Go on. Obviously you know how to do it, and I'm really uncomfortable, and now we're not going to win.
It wasn't until I got home to town that it clicked for me. I was thinking about a conversation I was supposed to be having with a coworker about culture and leadership, and I thought about Whitney and what she did. As well as what she did not do.
During the race, my body language was clearly strained as I held the bar. Whitney saw this and she could have said, "Just let me navigate this part." And that would have been quite good.
But instead, she gave me the power to stay at the helm and lead us. It allowed me to take a different approach, literally. Whitney allowed me to get there my way, giving me ownership and agency.
I realized that many of us don't do this as leaders. Especially as women, I think, we try to guide. We say, "Here I am going to show you how to do it and you will take over when the waters are calmer. We want to stand together, but sometimes we just take control with the best of intentions.
I'm not saying we should let people fail and drown in the proverbial rough waters. Rather, it's about overcoming the discomfort – yours and theirs – when you both know you could easily do it on your own, but you're not going to.
As the waves hit the bow, I wanted Whitney to just take the helm. Your mentees and coworkers may want you too. And of course, there will be times when you need to.
But often there is an opportunity to lead by taking a step back, by creating space, by supporting without gaining the upper hand. We can help those we lead their own way to the finish line – with the bar firmly in their hands.
Alicin Reidy Williamson is Senior Vice President and Director of Inclusion at Endeavor. Prior to joining Endeavor, Reidy Williamson worked for The Raben Group, a national communications strategy and public policy firm, where she headed the firm's New York office as well as its diversity, fairness and gender practice. inclusion as the main director.