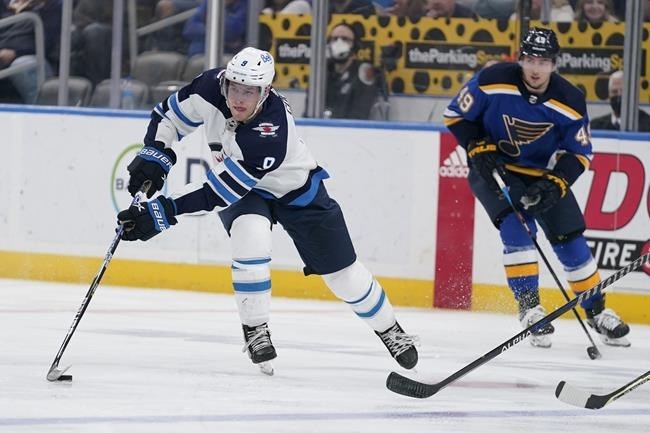 Jets trade forward Copp, defenseman Beaulieu and Bryan Little
WINNIPEG — The Winnipeg Jets may have been sellers at the NHL trade deadline, but general manager Kevin Cheveldayoff saw no holes in his roster after a busy day.
WINNIPEG — The Winnipeg Jets may have been sellers at the NHL trade deadline, but general manager Kevin Cheveldayoff saw no holes in his roster after a busy day.
Winnipeg completed five deals on Monday and one Sunday night, moving five players and receiving four. They also added and subtracted a number of draft picks.
Veteran forward Andrew Copp was the biggest deletion when he was traded to the New York Rangers before Monday's deadline at 3 p.m. ET.
The Jets also bid farewell to defensemen Nathan Beaulieu (Pittsburgh Penguins) and Nelson Nogier (Los Angeles Kings). The rights to unsigned prospect Nathan Smith and injured center Bryan Little's contract both went to the Arizona Coyotes.
Winnipeg added forwards Morgan Barron from the Rangers and Zach Sanford from the Ottawa Senators. Defenseman Markus Phillips was on the Kings' deal and forward Mason Appleton was bought from the Seattle Kraken in a trade Sunday night.
"It was important for us, again, not to have any holes in our lineup when we came out of deadline day here," Cheveldayoff told media after the deadline. "It was something that, given the balance of the salary cap and the potential of what we were going to do, I wanted to make sure we weren't in a situation where we didn't have the holes filled. .
"It was important to me to have Mason, it was important to me to have Zach, and it was important that we helped this organization go deeper from an asset perspective."
He was asked if the roster is now better than the one that beat the Chicago Blackhawks 6-4 on Sunday. Copp had three assists in the game.
"Well, I think it's more balanced," Cheveldayoff replied. "Again, Copp's versatility is definitely something we saw yesterday when he slipped into the middle and those are the things that made him a very useful player for us.
"From that side of things you lose a bit, but I think from a size perspective and a harder perspective to play against, with the size of Sanford, it gives us a bit of a different element to what that we had before."
Copp, 27, has 13 goals and 22 assists this season, on pace for a career-best campaign. He has 74 goals and 110 assists in eight seasons, all in Winnipeg.
The New York deal also allowed the Jets to send a sixth-round pick in the 2023 NHL Draft to the Rangers, who gave up Barron, two conditional second-round picks and a fifth-round pick in 2023 in return.
Barron split the season between the Rangers and their AHL affiliate, the Hartford Wolf Pack, and he had one assist in 13 NHL games.
The New York Jets' two conditional second-round picks include the Rangers' 2022 second-round pick, but he will become a 2022 first-round pick if New York advances to the Eastern Conference Finals and Copp plays in at least 50 percent of Rangers playoff games.
Winnipeg also got the 2022 second-round pick of the St. Louis Blues or the 2023 second-round pick of New York.
Copp's name has been swirling in trade rumors for some time, along with that of unrestricted pending free agent forward Paul Stastny.
"Paul Stastny, for us, is key from the point of view of this organization that he can do so many things," Cheveldayoff said. "You talk about the flexibility of playing on the wing and in the middle, and just the leadership and the experience in the hall.
"I can tell you that I've never had a conversation about moving Stas because he's so important to us. If we want a chance to make the playoffs here, we need him."
Little and Smith's package was traded to the Coyotes for a 2022 fourth-round draft pick.
Little, who hasn't played since November 2019 after being hit in the head with a puck that left him with a perforated eardrum and dizzy, has two more years on a contract with an average annual value of just over of US$5.29 million. .
With Little's departure, captain Blake Wheeler is now the only remaining player from the former Atlanta Thrashers franchise which was sold and moved to Winnipeg in 2011 and became the Jets.
Cheveldayoff said he thanked Little for opting out of his amended no-move contract that included the Coyotes.
"It gives us the flexibility, if you want to call it, in the salary cap world where we don't have to plan to be an LTI (long term injured reserve) team to this extent," he said. -he declares.
Beaulieu was traded to Pittsburgh for a conditional seventh-round pick in the 2022 NHL Draft. Currently on the long-term injured reserve with a lower-body injury, the 29-year-old has four assists in 24 games for the Jets in 2021-22. He is in the final season of a two-year contract with a $1.25 million AAV.
Winnipeg traded Nogier for Phillips, who was then traded to Winnipeg AHL club Manitoba Moose. Phillips, 23, has played 38 games for Ontario Reign in the AHL this season and has one goal and four assists. The native of Markham, Ont., is in his third professional season.
Sandford is an unrestricted free agent awaiting a one-year, US$2 million contract. He has nine goals and eight assists in 62 games this season.
Cheveldayoff was happy to welcome back Appleton for a fourth-round pick in 2023. Winnipeg drafted the center in the seventh round in 2015, but lost him to Seattle in last summer's expansion draft.
Appleton has six goals and 17 points in 49 games this season.
Heading into Monday's NHL action, the Jets are four points behind the Vegas Golden Knights for the final wildcard spot. Vegas plays Minnesota on Monday night, then travels to Winnipeg for a game on Tuesday.
This report from The Canadian Press was first published on March 21, 2022.
Judy Owen, The Canadian Press