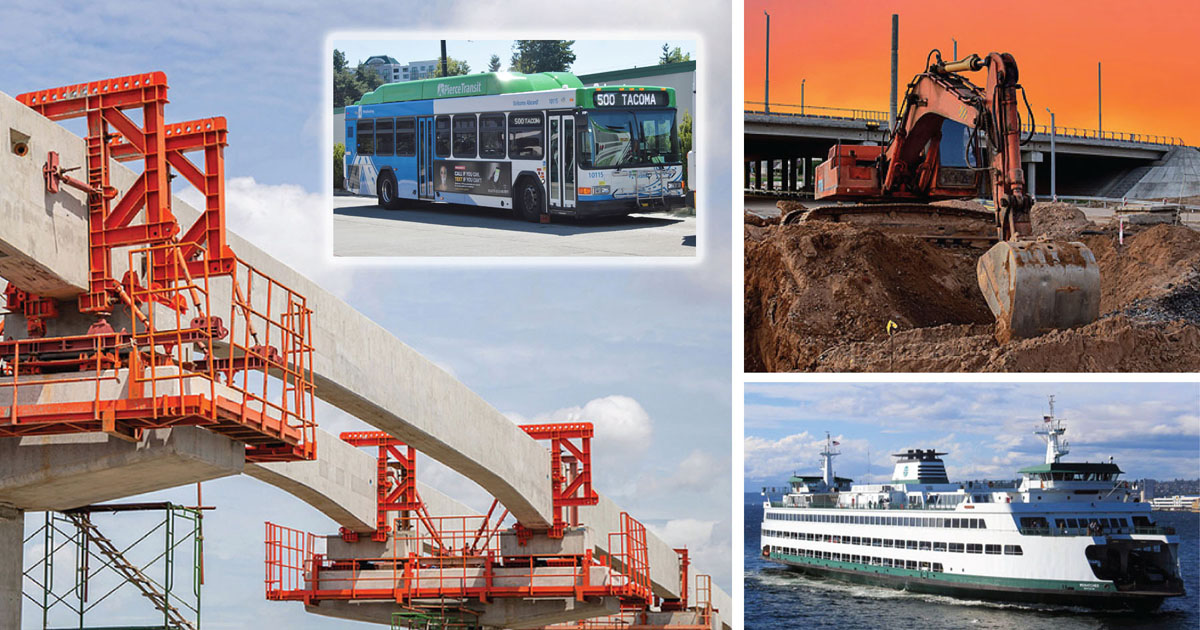 The value of nurses | The Senate moves forward | horrible passengers
Wednesday, February 16, 2022
---
► LIVE from the Seattle Times — Daily Coronavirus News Update, February 16 – The latest tally of COVID-19 cases in Washington totals 1,410,658 infections (14-day average of daily cases: 6,755) and 11,373 deaths.
► From KOMO — Inslee decides to end indoor mask mandate in Washington – Gov. Jay Inslee hosted a press conference Thursday where he is expected to announce if and when he will lift the indoor mask mandate. The term of the outdoor mask ends on Friday.
► From the Tri-City Herald — Richland schools close immediately after surprise vote to challenge WA mask mandate
► Excerpt from the Washington Post — "Excess deaths" in the United States during the pandemic have exceeded one million, according to the CDC – Although the vast majority of excess deaths are due to the virus, CDC mortality records also show an inflated number of deaths from heart disease, hypertension, dementia and other conditions over the course of two years of pandemic misery.
► From the NY Times — "Nurses have finally learned what they are worth" — Bedside nursing has always been, as one hospital executive put it, a "burnout profession." The work is hard. It's physical and emotional. And hospitals have built shortages into their business model, keeping staff lean and labor costs low. When the pandemic hit, shortages only increased, pushing hospitals to breaking point. In the flood of resignations, retirements and shortages that have redefined workplaces across industries in the past two years, nothing has been as dramatic or as consequential as the changes taking place in nursing. . The rush for bedside nurses is tied to everything from how we run our hospitals to how we enjoy the work of caring for others to our understanding of public health and medicine.
---
► Excerpt from the (Everett) Herald — Senate advances funding for $17 billion transportation package – The state Senate on Wednesday approved a 16-year, $16.8 billion transportation package that would direct $600 million to Snohomish County for new roads, expanded bus service and increased safety for cyclists and pedestrians. Democrats crafted the proposal which passed by a vote of 29 to 20. It is now sent back to the House for consideration.
The stall (February 9) – Coalition Backs 'Move Ahead Washington' – Labour, business and environmental interests support the Democrats' bold transportation agenda.
See ALSO the WSLC one-pager on transport investment.
► From Access Point — Senate approves governor's emergency powers bill – Nearly two years after Governor Jay Inslee declared a state of emergency due to the COVID-19 pandemic, the state Senate on Tuesday approved a measure that authorizes legislative leaders to end a emergency after 90 days if the Legislative Assembly is not in session.
EDITOR'S NOTE — Meanwhile, south of the border…
► From Oregonian — Oregon Senate votes to limit mandatory overtime for bakers – The Oregon Senate voted overwhelmingly (24 to 2) on Tuesday in favor of a bill that would ban employers from penalizing bakery and tortilla workers who refuse to work overtime on short notice .
---
► Excerpt from the Bellingham Herald — As Bellingham moves away from natural gas, local workforce grapples with their future – As global-warming fossil fuels are phased out in Bellingham, a question is surfacing the conversations between union leaders and local officials: what happens to paid jobs in the fossil fuel industry? "Labourers are understandably nervous," said Trevor Smith, political director of Labor Local 292, which represents about 1,400 members in Whatcom, Snohomish, Island, San Juan and Skagit counties. "They want to know what this means for them and their families."
► Extract from (Longview) Daily News — Classified Longview staff urge district to increase salaries due to staffing shortages — Several members of SEIU 925, which represents staff such as paraeducators, bus drivers, food and maintenance workers, and community members have called for wage increases amid shortages of staff.
The stall (February 10) – Urge Daily News in Longview to offer living wages to staff
► Excerpt from the (Everett) Herald — Driver shortage cuts bus routes between Snohomish and King counties – Driver shortages forced Sound Transit to cut 18 daily weekday bus trips on express routes between King and Snohomish counties. Similar issues with canceled or delayed trips over the past month have also affected Sound Transit's other express routes, operated by King County Metro and Pierce Transit.
► From the Seattle Times — King County is looking for ideas to calm problems on buses – In the future, teams of assistants could meet with King County Metro Transit buses at the end of their runs, to persuade so-called "non-destination passengers" to accept social services without confrontation.
► From the Seattle Times — Seattle Academy for Emerging Educators Aims to Address a Critical Need in the Classroom – As Seattle Public Schools attempt to fill classroom vacancies, the Academy for Up-and-coming Educators has emerged as a steady source of staff.
---
► From the Seattle Times — When Boeing 787 deliveries resume, the FAA will self-certify each plane – The FAA informed Boeing on Tuesday that when it finally approves 787 deliveries to resume, the agency will perform final inspections on each newly built plane before issuing a certificate of airworthiness that approves the plane to carry passengers. This power to issue these individual airworthiness certificates is systematically delegated to the manufacturer. But quality issues affecting the 787 manufacturing process prompted the FAA to deny Boeing that authority.
---
► From the Salisbury post — Rare opportunity for Congress to help US competitiveness (by Marybe McMillan, President of the NC AFL-CIO) – When President Biden signed the bipartisan Infrastructure Act in November, it was a major victory for American workers who are ready to rebuild our country's crumbling infrastructure. . This month, the U.S. House built on that success by passing the America Creating Opportunities for Manufacturing Pre-Eminence in Technology and Economic Strength (America COMPETES) Act. bipartisan legislation to strengthen supply chains, hold China accountable, and ensure our workers, farmers, and manufacturers have the tools to not only compete, but win in the global economy.
---
► From the NY Times — See (the worst people in) the world! — Flight attendants often love their jobs. Salaries are decent for a profession that does not require a college education and offers on-the-job training. The career also offers many benefits, which increase over time. But pandemic anxiety, hostility and temper tantrums have turned planes into battlefronts. In some ways, it's not so different on the ground for big box store hosts, grocery store workers, waiters, bus drivers and other workers whose jobs require them to remind people to comply with mask policies. They are all at risk of being insulted, spat on or hit. But airlines are a particular dumping ground for stress and rudeness during the pandemic. And if a customer spirals out of control mid-flight, flight attendants have no escape and no way to eject the passenger. Instead, the attendant is held to a federal mask mandate with little perceived authority — the public thinks 'we're nothing more than cocktail waitresses,' one told me — and without the muscle of law enforcement.
► From Reuters — Private prison corporation to test US house arrest program for immigrants – A subsidiary of GEO Group will run a new US pilot program that would place hundreds of migrants caught crossing the US-Mexico border under house arrest, the US Department of Homeland Security (DHS) has said, an approach that critics say , is an extension of for-profit ownership.
---
The booth publishes links to Washington state and national news of interest every weekday morning before 10 a.m.